Fortress Italy Rome to Victory Released
Posted On: November 30, 2019
It's finally time. Time to take the war through Northern Italy and to final victory. Combat Mission Fortress Italy's latest module, Rome to Victory, is available now. The march continues to the Alps as we introduce new TO&E that includes Indian, Brazilian, South African and Free French forces. Also added are Waffen SS and Luftwaffe Herman Goering units
Please visit the module's web page for all of the details and get your copy today!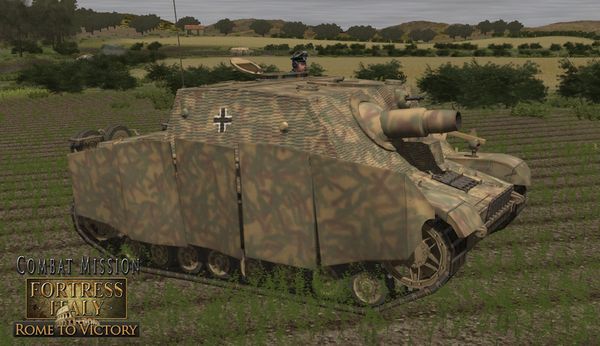 Battlefront Updates
Fortress Italy Rome to Victory Preorders Available
Posted On: June 28, 2019
Join us as the Allied forces continue their march through Italy. Combat Mission Fortress Italy's newest module adds nearly 100 new formations and over 50 new vehicles to the Italian theater as the theater is expanded to the Alps and the end of the war.
Pre-orders for this exciting new title are now open. Please visit the module's web page for more details and to pre-order your copy today! IMPORTANT: right now we are only taking Pre-orders.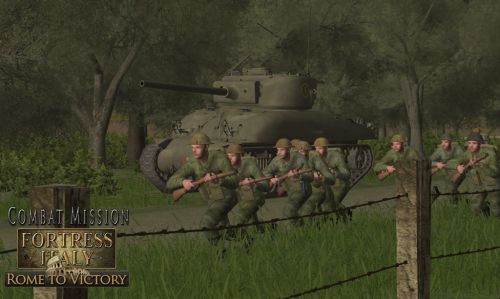 Game Engine 4 Patches are Released
Posted On: May 14, 2019
The highly anticipated patch for Game Engine 4 is now available for Combat Mission games Battle for Normandy, Red Thunder, Fortress Italy, Final Blitzkrieg and Black Sea patches are all available for download.. You can download all of these patches now by clicking here there are countless changes to the games TO&E, major changes to the TacAI to better handle the use of cover when under heavy fire along with many other bug fixes.(There is no new patch for CMSF2 because the previous v2.01 patch already incorporated the relevant Engine 4 improvements)
Shock Force 2 v2.01 Patch is Released
Posted On: January 1, 2019
By popular request we smoothed out some rough spots in our recent Shock Force 2 release. With this patch (click here) there's significant improvements to Marine and Canadian uniforms, a few mismatched weapons cleared up, issues with the Marines Campaign fixed, and another dozen useful improvements.
Shock Force 2 is released along with Upgrades for Shock Force 1 customers
Posted On: December 7, 2018
At long last the reworking of a masterpiece in wargaming is complete and ready for you to play! After a brief "soft lauch" mode earlier this week we are very pleased to officially announce the release of Shock Force 2 for both Windows and MacOS. You can now purchase the Base Game and Modules in various combinations to suit your tastes and budget. For orignal CMSF1 players there are a bunch of inexpensive options awaiting you in the Upgrades section.
If you preordered CMSF2 your license key and download link now work. For existing CMSF1 customers your old license keys are in the system and ready to be reactivated. Even if you've misplaced your license key or have a retail version, we'll help you out. Check out the CMSF2 Forum for more information.
Shock Force 2 Preorders Available
Posted On: August 8, 2018
The journey to bring Combat Mission Shock Force 2 up to current Game Engine 4 is nearly is at an end! We are pleased to announce preorders for CMSF2 Base Game and Bundles are now available. And for those who don't know, all CMSF1 (original) products can be inexpensively upgraded once CMSF2 is released. How inexpensive? $35 for everything or less if you only have one or two things in need of an Upgrade.
The obvious question out there is "when will CMSF2 ship?" We're aiming for no later than the end of September. However, we'll soon release a demo with 4 battles and a training mission. That should help keep you occupied for a while.
New site update
Posted On: July 10, 2018
At long last we have made the move to a totally new website and store. Yes, we know it's about time... but that's what happens when making games is the priority! There's a lot of change here and much of it is more than superficial. Here's some things to think about as you check out the new site:
New Store, Same Accounts. VERY IMPORTANT!!!! PLEASE READ!!!!!
All customer and order data going back to 2007 is here for you! You will need to reset your passwords before logging in because your old password will not work. To do a reset, click on Login (upper right corner of this page) and then click on the Password Reset link down at the bottom. You need to enter your Username and email address. Here are the potential problem areas:
Your Username is your account email address unless you manually changed it at some point in time
If your Username is too long it will be truncated. Do not worry, it will work if you're using the correct email address
If the system doesn't recognize your info, try a different email address if you have one
If you can not remember your login info, or are using an account with a dead email address, click on the Support link above and then the Help Desk to file a ticket. Please be patient for a response.
New Purchase Options
We now offer more purchase options for most products. As before all games include free, unlimited downloading for both Windows and MacOS. Due to the ever increasing costs of printing and shipping, you can now select between Digital Only, Disk Only, Manual Only, or Manual and Disk. Because we only print Game Engine manuals the new option allows you to order a manual ONCE and still order DVDs for future purchases. This way you don't have to pay for redundant printed manuals just to get DVDs.
Reporting Problems
If you should find a technical issue with the website in general or the store specifically, head on over to the general Tech Support Forum and let us know.
What happened to Shock Force?
Shock Force 1 is no longer available for sale and therefore you will find no trace of it on this website. What you will SOON find is Shock Force 2! Everything is set to go for preorders, however we wanted to first take the website and store for a shakedown cruise before there's a bunch of you Refresh Monkeys™ hammering away on the new site. And for those who don't understand the monkey reference, ask around on the Forums and you'll quickly find out. But be prepared for long winded tall tales from the old timers. Sometimes it's better not to ask!